The evenings have closed in and weather-wise the past few weeks Autumn has definitely felt like it's starting to make way for winter, which is no doubt, making this second lockdown very difficult for so many people. We've been very fortunate here to have been able to stay open, providing practical classes for Maynooth Uni and St. Patrick's College Maynooth students, as well as working on essential production work for live-streams and recordings recently.
The past few weeks have proved especially busy as we recorded several pieces for the Irish Kidney Association's annual Service of Remembrance and Thanksgiving which aired on RTÉ One recently - you can watch it back on the RTÉPlayer by clicking this link where it will remain until mid-December. After that, you can view it on the Irish Kidney Association YouTube Channel by clicking here.

The service was created by the IKA with several transplant recipients and families of organ donors taking part in a socially distanced Ecumenical service in Stephen's Green, which was combined with pieces we recorded in Dublin and Galway, and extra video contributions sent to us by President Michael D Higgins and Majella O'Donnell, it was a beautiful service of remembrance for organ donors and their families, and one of thanksgiving for the recipients and their families.


Other than that, we've been privileged to work with our neighbours in St. Patrick's College Maynooth on their Graduation Ceremony for the 2020 Graduates. While there have been hundreds of Graduation days in the College's 225 year history, this was the first "virtual" ceremony, which captured both the solemnity and the warmth of a traditional St. Patrick's College Graduation, with a special address for the Graduates recorded from the home of Chancellor of the College, Archbishop Eamon Martin. You can watch his address and the rest of ceremony online at this link.


Working on a series of videos for Maynooth University's Vice-President for Equality and Diversity to welcome back the new Maynooth Uni students, introducing the topics of consent, and equality and diversity was a bit of an editing challenge. They had asked contributors online to send them in clips of themselves talking about the above topics and film them on their phones or ipads/tablet...which led to an interesting edit...how do you match up videos shot at 14frames per second (fps) with videos shot at 24, 29.97 and 30fps? The answer is, with previous experience! We also created a (non-phone-shot!) video for the Green Flag Award winning Maynooth Campus Grounds-team. The team have been steadily working with Maynooth Green Campus over the past few years to create bio-diversity friendly green campus and their hard work has been recognised by An Taisce and the National Centre for Bio-Diversity with this award. You can learn more about their hard work and the awards by watching the video their facebook page.
Having worked with them earlier this year on a previous ad campaign, it was wonderful to partner again with Knock Shrine on another TV ad campaign, this time to raise awareness for their November Mass in memory of all who lost their lives with Covid-19 on the island of Ireland, which they broadcast online on Sunday November 22nd.

Closer to home, we were delighted to welcome another production company into the building for a few days too - we won't give any spoilers, suffice to say that the 24hour change of a classroom to a hospital suite and back again was quite impressive - you can see pictures below!
Aside from that small change (!) there's been a few changes in-house too, with all the CV-19 changes, the staff in neighbouring SAM have worked hard to create a beautiful seating area in the quadrangle of the building that we share with and with Divine Word School of English (DWSE). They've transformed what was a very ordinary seating space into a flower and plant filled space of colour, and it has certainly helped both staff and students of SAM, DWSE, Kairos and our MU & St. Pat's students to have somewhere safe to sit and enjoy a socially distance coffee in. You can see some of their hard work below!

So that's probably enough for you to be reading for now...and we haven't touched on half the rest of the work over the past month & a bit! December is looking to be another busy month, with livestreams and RTÉ broadcasts, which we're very lucky to have in the current climate; and this will culminate for us in a live EBU broadcast of Midnight Mass from the village of Clonard, once home to St. Finian.

We've been lucky enough to have an EBU simulcast for many of our recent Christmas Eve Midnight Masses, and it's always wonderful to know that thousands of people around Europe will share in that Christmas Celebration with us. It's a little early to wish you all Nollaig Shona, so instead, we hope that with the lifting of restrictions in December, we can all share in the joy of the season of Advent before the celebrations of Christmas Day.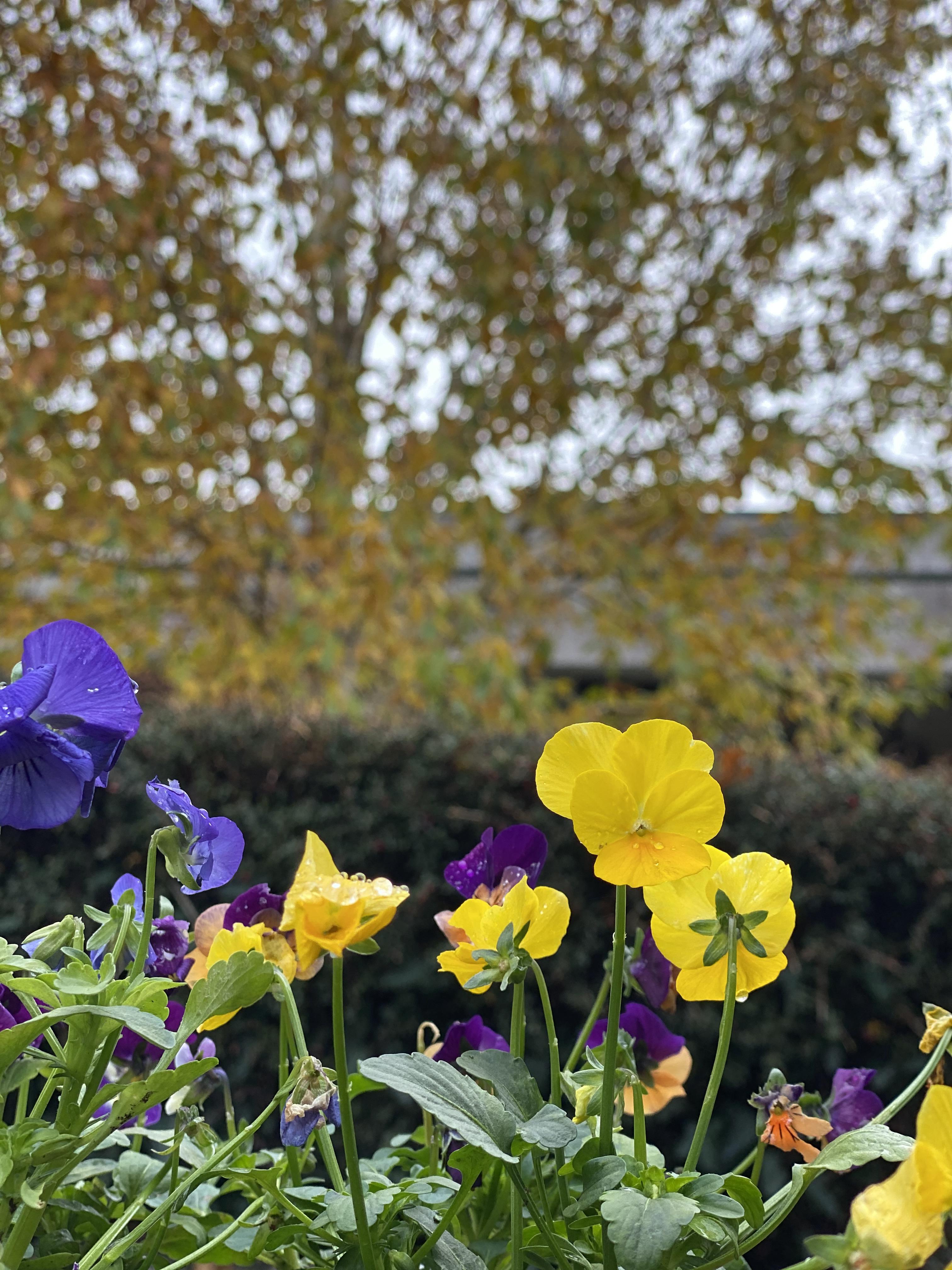 Some of the new flowers brightening up the Quad on a rainy morning...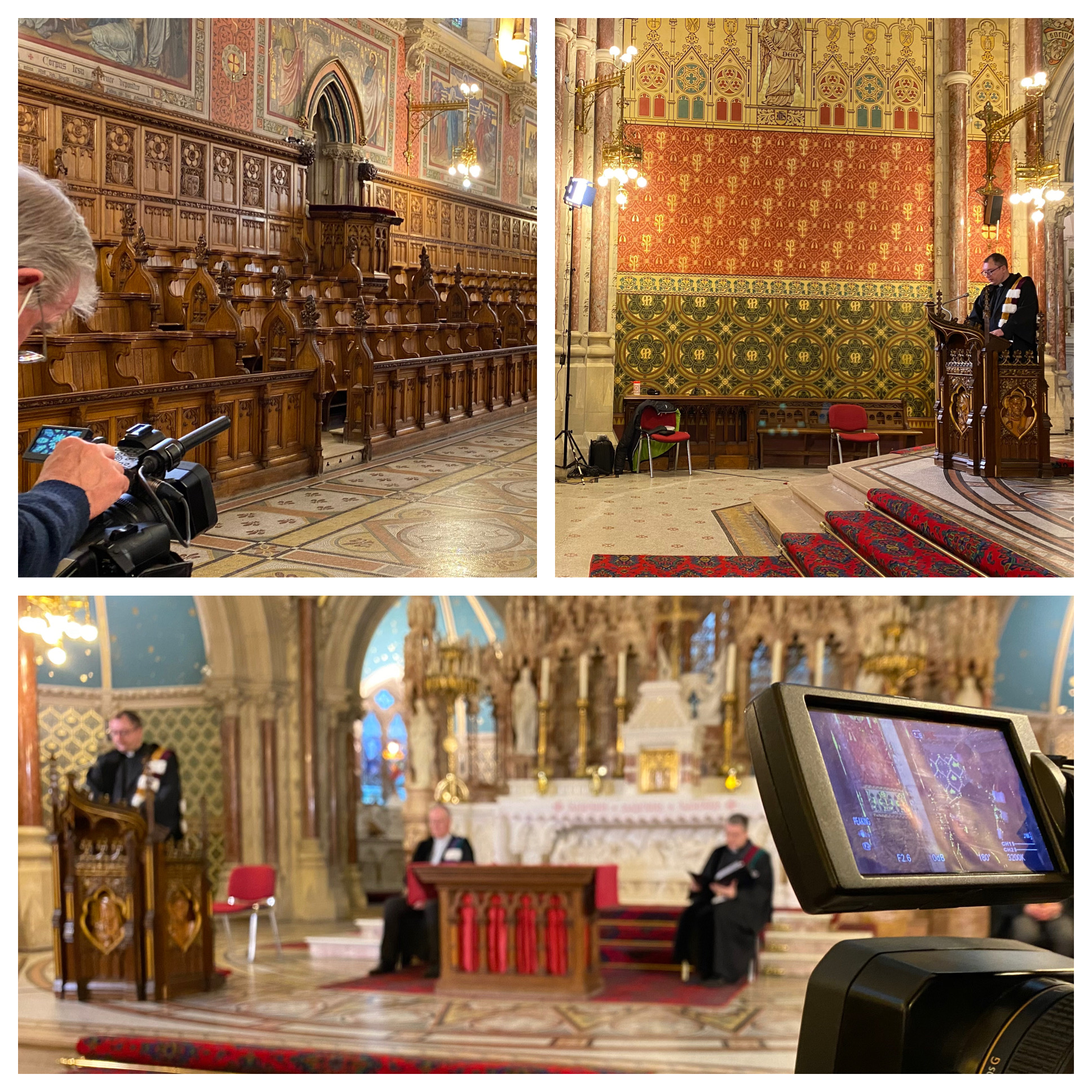 Our M.D. filming with us for the St. Patrick's College Maynooth Graduation Ceremony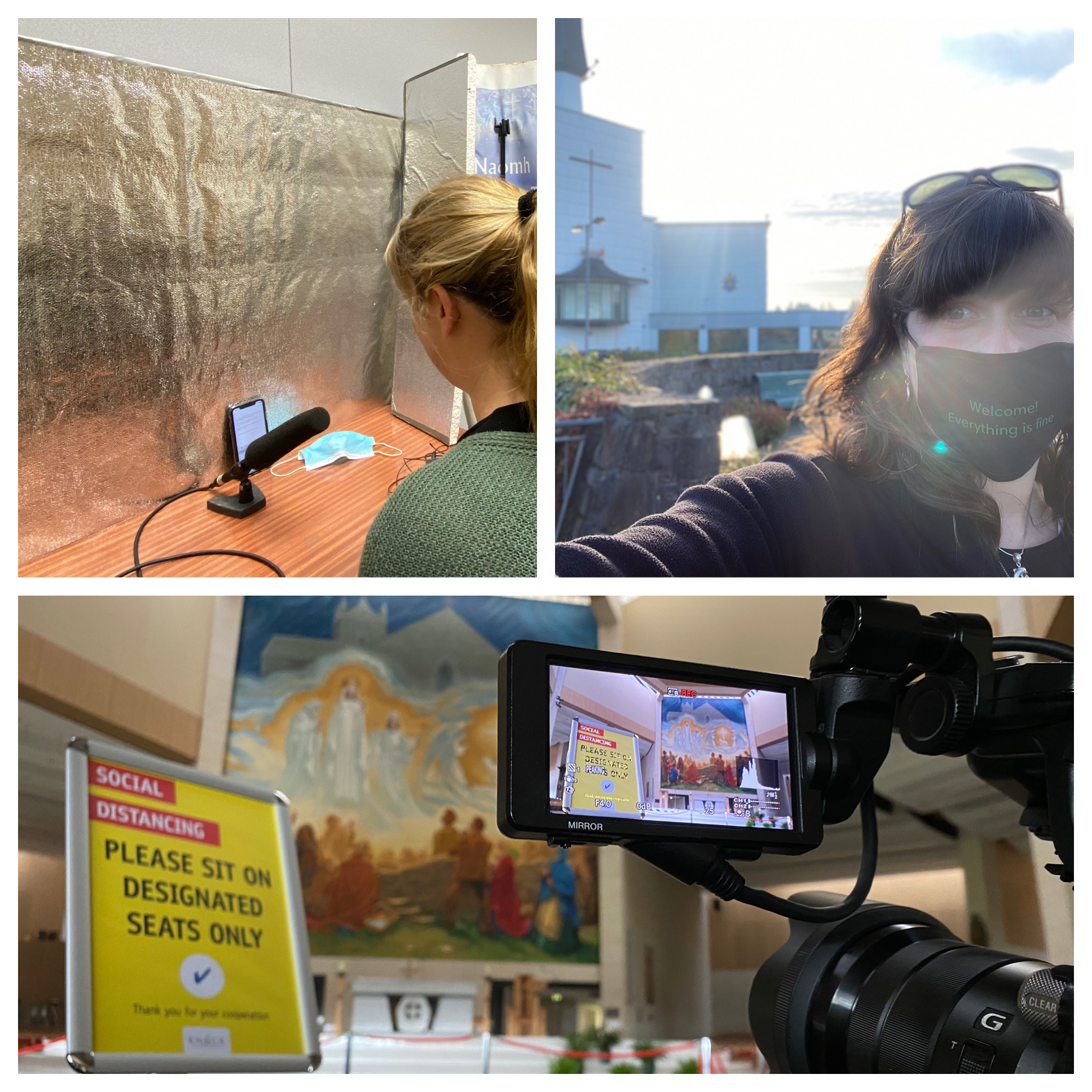 Recording a voice-over in Knock with a newly built sound-space, and filming some timely signs with an apt mask.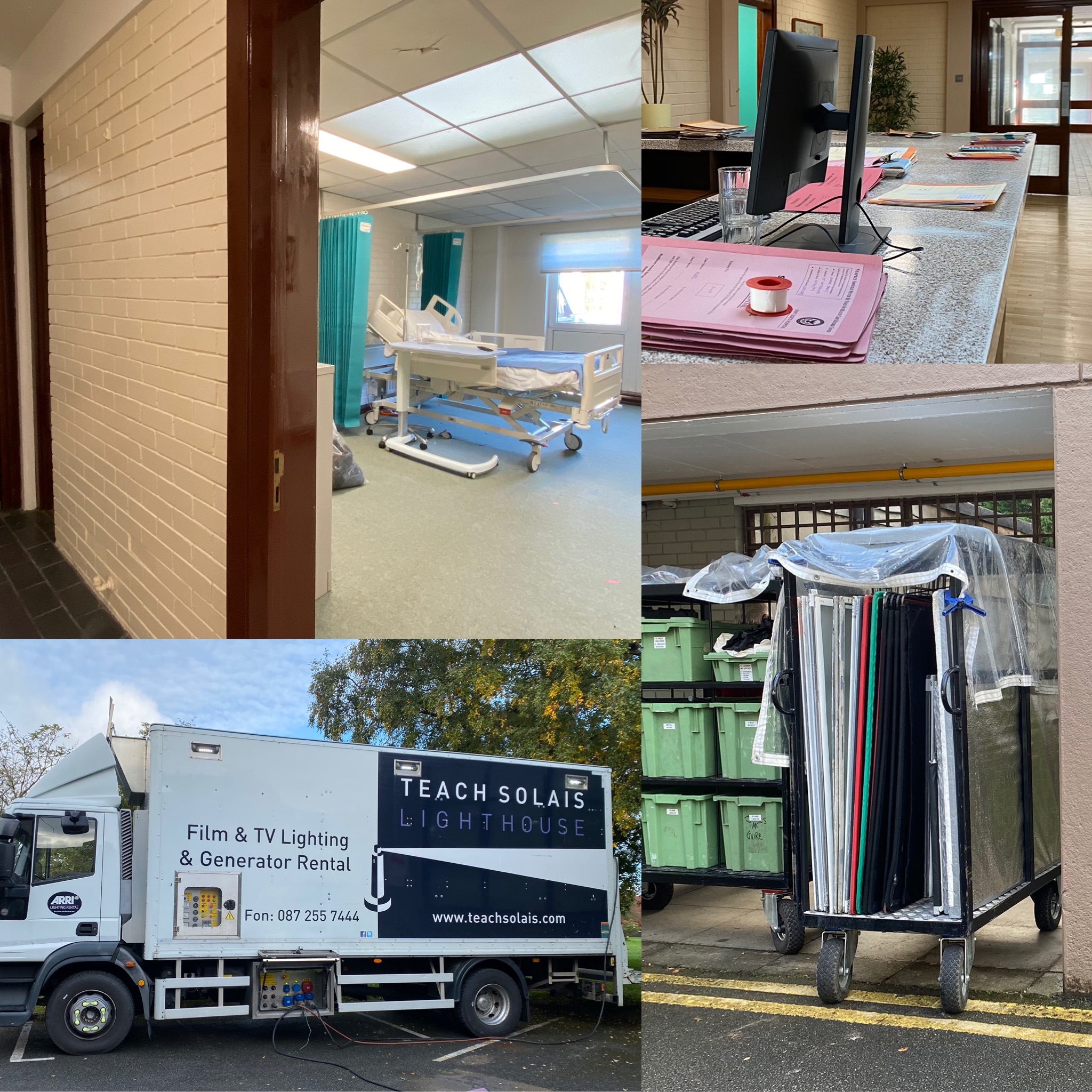 An overnight change to a hospital ward for our classrooms & corridors!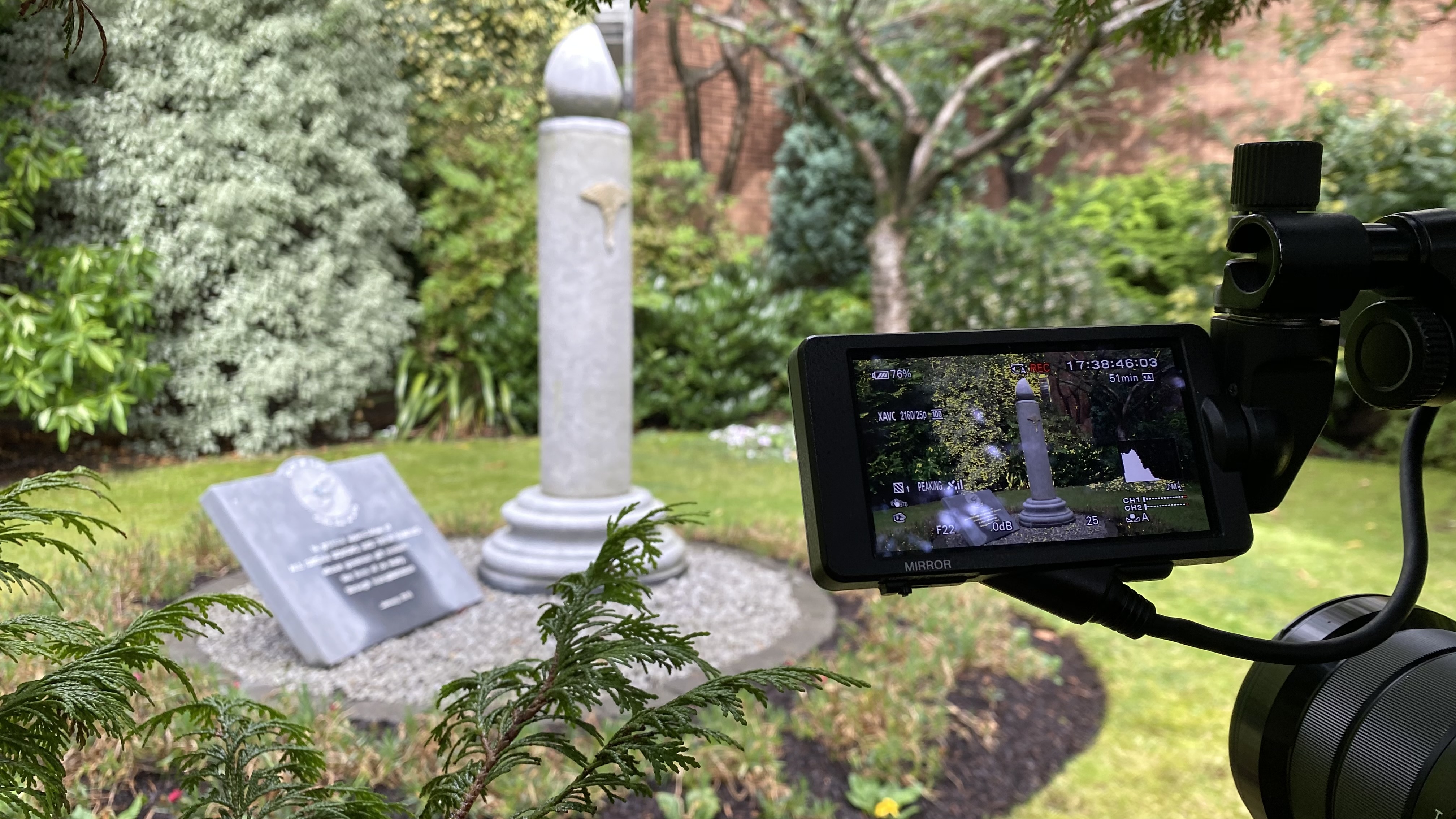 Taking a moment at the IKA memorial statue for organ donors at Beaumont Hospital ahead of our IKA Remembrance Service.