As April draws to a close and May brings (hopefully!) those longer brighter evenings that we're becoming accustomed to, it's a good time to bring you all up to date on what we've been doing and plan to do over the next month or so!
Early April saw our preparations for our two RTÉ liturgies, Good Friday
( click here to watch**)
and the Easter Saturday Vigil
(click here to watch **)
get into full swing, filming short introductory videos for the two broadcasts, timing the liturgical music and preparing the camera scripts, lighting and floor plans, and the scripts for the Liturgies themselves. We were fortunate enough to work again with both
Skylite Balloons
and
Lumiere Productions
to help light the Chapel for both broadcasts.
It was both a pleasure and a privilege to be able to celebrate the Easter Ceremonies with our neighbours here in Maynooth,
St. Patrick's College
, in their beautiful College Chapel. Dr. John O'Keeffe, who is the Director of Sacred Music at the college, led a fantastic choir, comprising of alumni, seminarians and a mixture of Maynooth Uni. and St. Patrick's College students for both Liturgies, and the warmth and welcome we received during our few days there was deeply appreciated!
We've also had a busy month in our TV studio, welcoming back our MU media students as they rehearse their latest assignment, a live 20 minute TV chat show, featuring external guests and musicians. The students have to produce every aspect of the programme themselves, from set-dressing and booking guests to scripting, filming and directing the programme.
The First Years, Third Years, and Masters students have all been out shooting recently, working on documentaries and short dramas, which has meant lots of our camera kits have been hitting the streets of Maynooth, Dublin and beyond; as well as ensuring our student editing suites have been full most days with new pieces being created daily.
We've also had many visits from schools around the country for our popular
TYTV
days before the schools finished for the Easter break, which gave a bit of time to plan some new ideas for the TV studio - always a favourite pastime of Ger and Ita!
We had the pleasure of editing with Peadar King and
KMF Productions
again as he puts the finishing touches to his new RTÉ series "
What in the World"
which airs on RTÉ One on Tuesday nights in May. The first episode, titled "Death and Life in Somalia" airs at 11.35pm on May 7th, followed by episode 2 on May 14that 11.10pm, titled "No Direction Home", filmed in the Lebanon. Episode 3, titled "Another Brick in..." filmed between Palestine and Israel airs at 10.455pm and the final episode in the new series, titled "In Iraq with Denis Halliday" airs at 11.10pm on May 28th.
We've been out shooting educational training videos for private companies, as well as working closely with them on edits of the videos for their new websites, which are due to launch over the summer. We've filmed everywhere from pre-schools to food companies, which has been interesting - filming food being packaged proved to be infinitely easier than filming 4 year olds who are curious about cameras!
We've also been out and about promoting our new Post-Graduate media course, starting this September, which will cover everything from editing to ethics, filming to live radio and TV production, social media to media law and pretty much everything else in between! You can find out more about on our
PostGrad page here.
So between the live broadcasts, the students, the filming, the editing, the live-streaming and tweaking this new website of ours, it's been a fairly busy time - but those long bright evenings that hint at summer approaching are more than making up for it!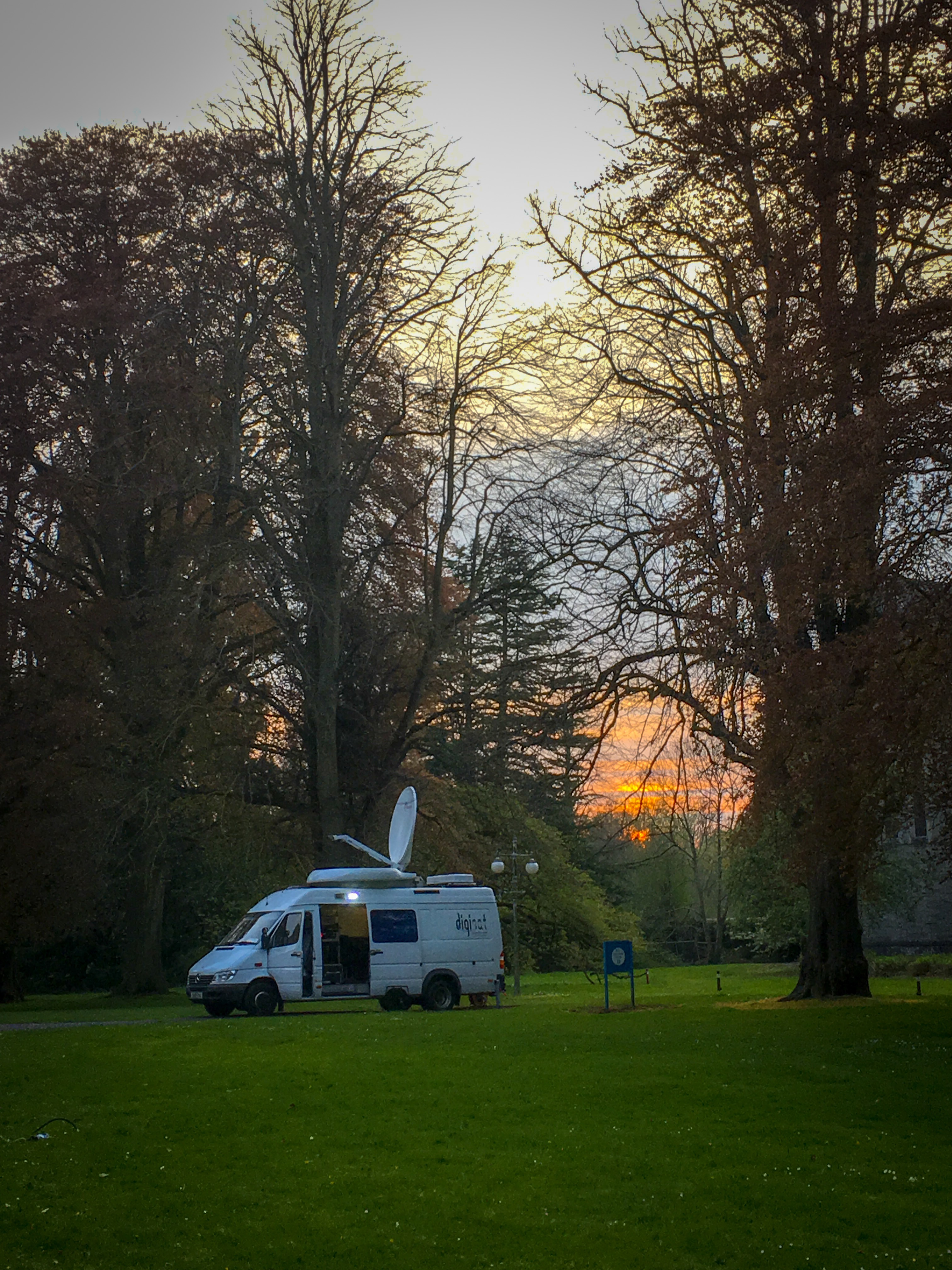 ** You can watch back either broadcast by clicking the links above - those links should remain working until May 20th when RTÉ remove the broadcasts from their online player.