What a changed world we find ourselves in since our last post in January. We had intended on posting a new blog in February; and yet despite the extra day in the month, time ran away on us! Between live-streaming gigs in Dublin, plenty of TYTV days, corporate shoots and edits, then helping our PostGrads with their TV studio production module and our Maynooth Uni Media students with their shooting and editing, the weeks flew by; and we suddenly found ourselves in the second week of March, with talk of cancellations and closures.
Once the closures began here, we were asked by RTÉ to facilitate some religious services from our chapel & studios here in Maynooth - beginning with St. Patrick's Day; which featured Fr. Peter Rodgers, OFM, who shared with us the wonderful "Prayer for a Pandemic; the video of which is linked
here
; as tweeted by RTÉ's Roger Childs.
Since then, we've welcomed Fr. Gabriel Kinhan & Trocaire, for Mass for the 4th Sunday of Lent; held a Service of Morning Prayer led by the Most Revd Dr Michael Jackson, Church of Ireland Archbishop of Dublin; and most recently, on Palm Sunday, celebrated Mass for Palm Sunday with Rev. Prof. Michael Mullaney, of neighbouring St. Patrick's College, Maynooth, and Celine Byrne.
As we've gathered for those broadcasts, despite the familiar faces and processes, there has been new elements added to our old routine - the sanitisation of our equipment, the checks that we have all been social distancing since our last broadcast, and the social distancing in the chapel. Yet still trying to make Mass look and more importantly, feel as normal as possible, despite the changing circumstances for each broadcast; always in the hope that we have been able share the celebration of Mass for those who are joining us in prayer from their homes.
At the moment, we are now preparing for our Holy Week broadcasts, for Holy Thursday, Good Friday and Easter Saturday in Mullingar Cathedral. Again, those broadcasts are changed so much from how we originally envisioned them. The Vigil is always a special time, as "Lumen Christi - Deo Gratia" echoes across the Church, the darkness is replaced by symbolic flame and candlelight - the light of Christ being shared throughout the darkness. This year, we may not have the same visual beauty of that sharing of the light of Christ throughout the Church, but we are reassured that those at home will feel that light shared with them spiritually - albeit virtually, but shared nonetheless.
On a virtual/web based note; we tend to keep our social media accounts updated more regularly than our website, solely due to the simplicity and instantaneous nature of the apps for the phone, so please do feel free to follow us on any of the platforms below. We hope that you & yours are staying safe amidst all this; and we pray that you remain so throughout.
Facebook:
https://www.facebook.com/kairoscommsmaynooth/
Instagram:
https://www.instagram.com/kairoscommsmaynooth/
Twitter:
https://twitter.com/kairoscomms
Our Chapel as it appeared on St. Patrick's Day...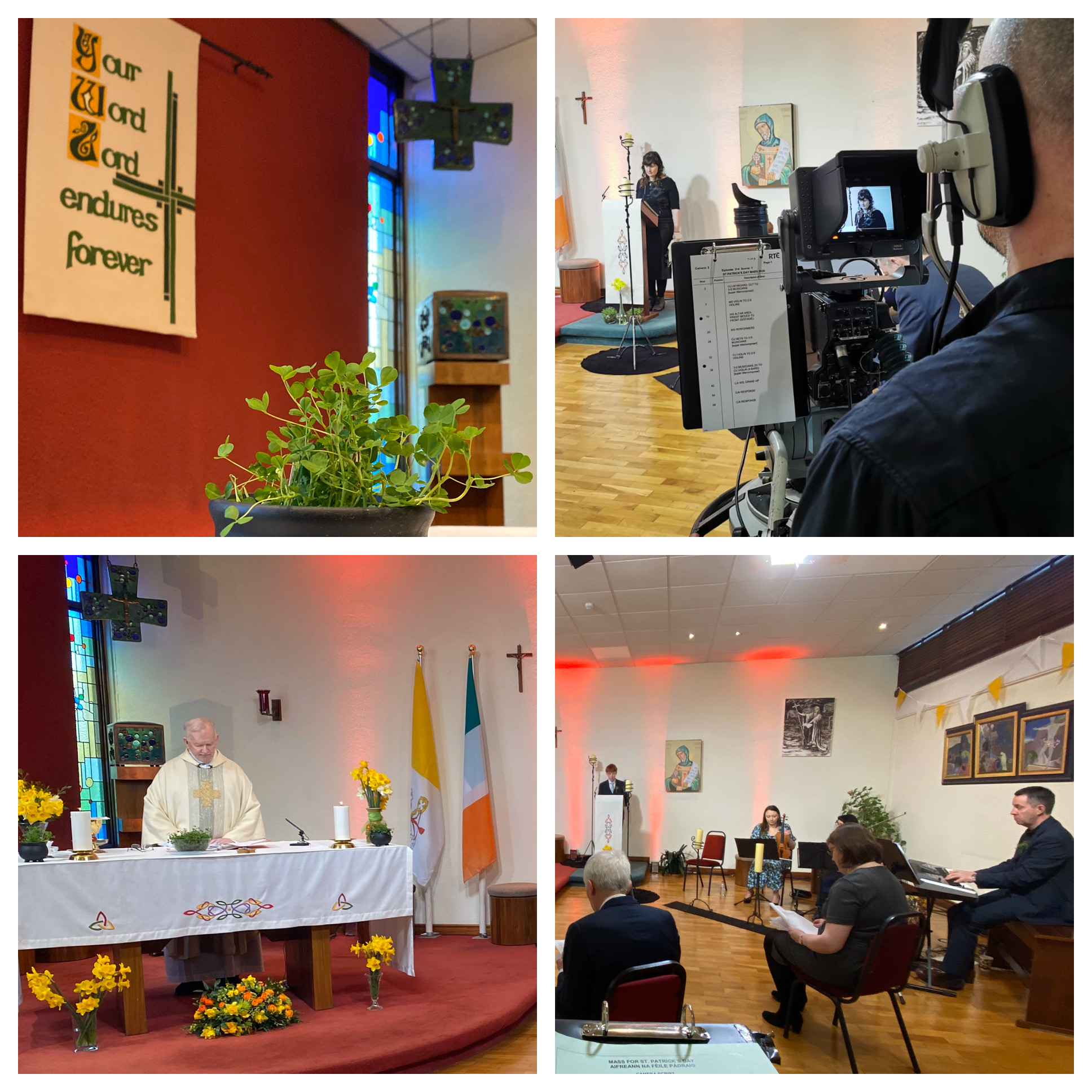 A moment of reflection during Service of Morning Prayer, led by the Most Revd Dr Michael Jackson, Church of Ireland Archbishop of Dublin, with Anne, Rev. Jack & Klaas featured in the image below.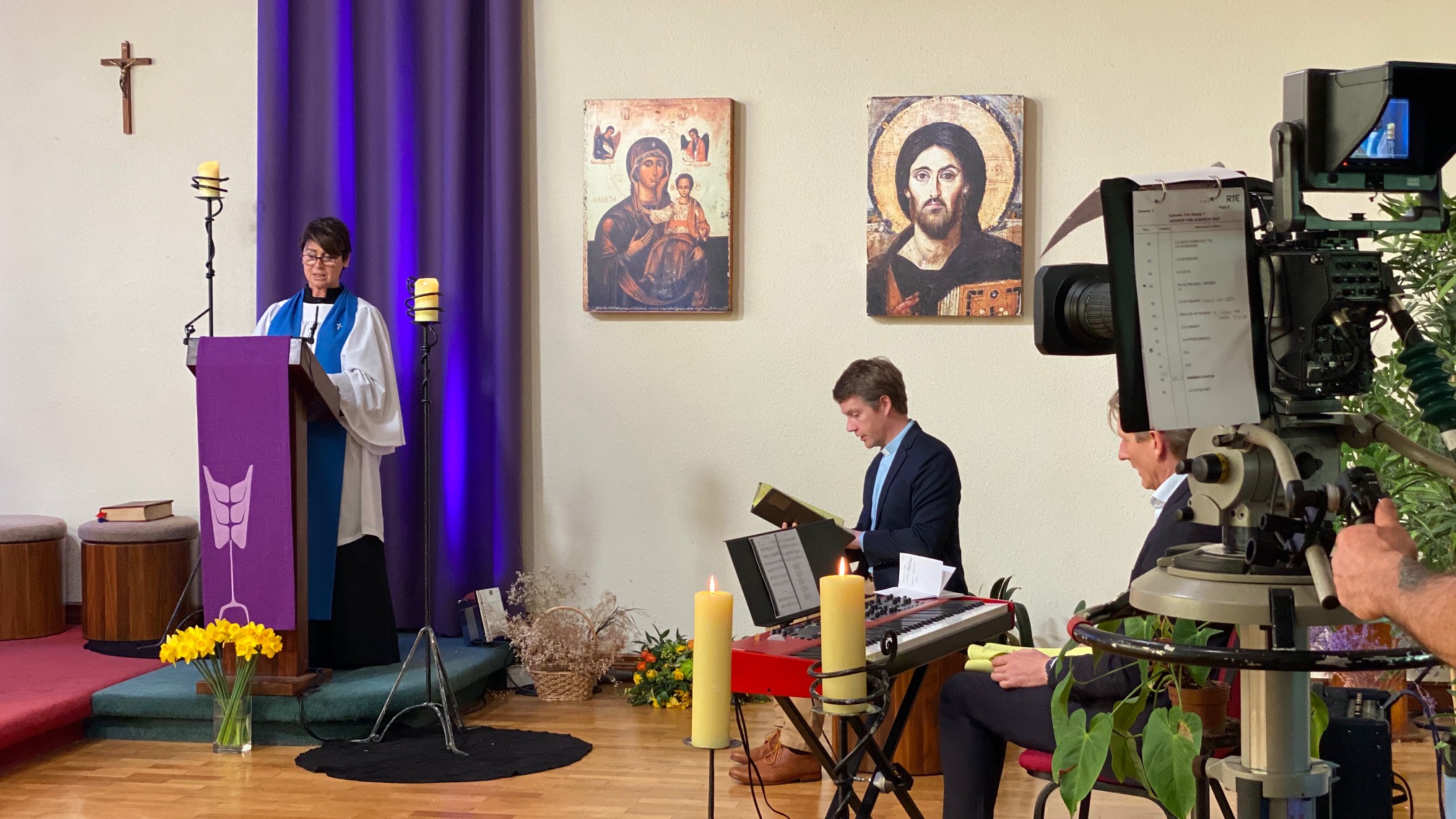 The less glamorous side of broadcasting; dealing with all the cabling!